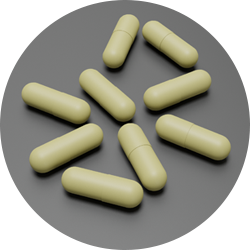 With ganoderma, also known as the "mushroom of immortality", rich in triterpenoids, polysaccharides, nucleotides, sterols, steroids, fatty acids, proteins and trace elements, offering strong antioxidant activity. In addition, the composition contains rice bran, which can increase endurance and athletic performance, as well as inulin which is found in various plant sources, mainly chicory and can improve gut health and lower blood glucose. Also, the formula contains 5 species of bifidobacterium and lactobacillus which contribute to the creation of an inhospitable environment for the development of other microbes.
Amount per serving: 10g / (%NRV):
Beet Root Juice & Greens freeze dried powder 4000mg, Inulin 200mg, Rice Bran Stabilized extract 125mg, Wheat Grass Juice-freeze dried powder 125mg, Ganoderma lucidum Karst. extract (std 30% Polysaccharides) 120mg, Ginger (Zingiber officinale Roscoe) rhizome freeze dried powder 50mg, Bifidobacterium lactis 0,5 bill CFU, Lactobacillus acidophilus 0,5 bill CFU, Lactobacillus casei 0,5 bill CFU, Lactobacillus plantarum 0,5 bill CFU, Lactobacillus rhamnosus 0,5 bill CFU.*

* NRV: Nutrient Reference Value
** NRV: Not established
"The Black Range Nutrients" offers products that cover the needs of immune system support, good mental health, energy and endurance, beauty as well as specialized products for bone strengthening, good liver function and mental clarity.
| | | | |
| --- | --- | --- | --- |
| | FRESH FREEZE-DRIED HERBS | | WITH MICRONUTRIENTS |
| | SUSTAINED RELEASE PHARMACEUTICAL FORMS | | SYNERGISTIC ACTION |
| | SUITABLE FOR VEGANS | | 0% ADDITIVES |
---