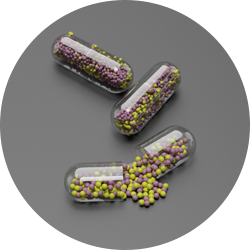 The composition contains the amino acid L-Tryptophane, which is converted to serotonin in the brain, contributing to normal sleep. In addition, it contains passiflora, magnolia, valerian and saffron, herbs known for their calming effects.
| | | |
| --- | --- | --- |
|   | Amount per Serving: 1 caps | %  NRV* |
| L-Tryptophane | 5mg | 50% |
| Pantothenic acid (Calcium D Pantothenate) | 3mg | 20% |
| Melatonin | 1,5mg | ** |
| Melatonin time-released granules | 1,5mg | ** |
| Biotin | 10mcg | ** |
| Magnolia Officinalis Rehder et Wilson., bark, freeze-dried | 25mg | ** |
| Saffron (Crocus sativus L.) freeze-dried | 1mg | ** |
| Passiflora incarnata freeze-dried | 100mg | ** |
| Valerian Officinalis freeze dried | 100mg | ** |
* NRV: Nutrient Reference Value
** NRV: Not established
BIBLIOGRAPHY
Hartmann E, Spinweber CL. Sleep induced by L-tryptophan. Effect of dosages within the normal dietary intake. J Nerv Ment Dis 1979;167:497-9.
Arendt, J., Borbely, A. A., Franey, C., and Wright, J. The effects of chronic, small doses of melatonin given in the late afternoon on fatigue in man: a preliminary study. Neurosci.Lett 4-6-1984;45(3):317-321.
Buscemi, N., Vandermeer, B., Pandya, R., Hooton, N., Tjosvold, L., Hartling, L., Baker, G., Vohra, S., and Klassen, T. Melatonin for treatment of sleep disorders. Evid.Rep.Technol.Assess.(Summ.) 2004;(108):1-7.
Ma H, et al. Magnolol enhances pentobarbital-induced sleeping behaviors: possible involvement of GABAergic systems. Phytother Res. (2009)
Lopresti AL, Smith SJ, Metse AP, Drummond PD. Effects of saffron on sleep quality in healthy adults with self-reported poor sleep: a randomized, double-blind, placebo-controlled trial. J Clin Sleep Med. 2020;16(6):937-947.
Lee J, Jung HY, Lee SI, Choi JH, Kim SG. Effects of Passiflora incarnata Linnaeus on polysomnographic sleep parameters in subjects with insomnia disorder: a double-blind randomized placebo-controlled study. Int Clin Psychopharmacol 2020;35(1):29-35.
Stevinson C, Ernst E. Valerian for insomnia: a systematic review of randomized clinical trials. Sleep Med. (2000)
"The Black Range Nutrients" offers products that cover the needs of immune system support, good mental health, energy and endurance, beauty as well as specialized products for bone strengthening, good liver function and mental clarity.
| | | | |
| --- | --- | --- | --- |
| | FRESH FREEZE-DRIED HERBS | | WITH MICRONUTRIENTS |
| | SUSTAINED RELEASE PHARMACEUTICAL FORMS | | SYNERGISTIC ACTION |
| | SUITABLE FOR VEGANS | | 0% ADDITIVES |
---