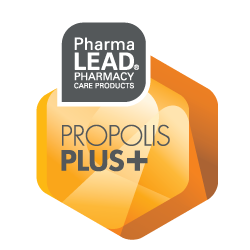 Contains vitamin C and zinc which contribute to normal function of immune system and protection of cells from oxidative stress. Vitamin C also contributes to reduction of tiredness and fatigue. Also contains ingredients, such as honey which traditionally soften the throat. Propolis extract is produced with the innovative method of dynamic multi-extraction which maximizes the presence of polyphenols in the product.
Ingredients: Purified water, organic sugar from sugarcane, glycerol, L-ascorbic acid, zinc gluconate, sodium chloride, preparation of dry propolis extract (7-13%) with manuka honey (17%) and manuka essential oil (2%) [in the presence of excipients: arabic gum, silicon dioxide, sucrose], Echinacea root and aerial part extract, mixture of live friendly bacterial strains (Bacillus coagulans, Bacillus subtilis, Bacillus licheniformis), potassium sorbate, flavor (apple, peppermint), ivy leaf extract, citric acid.
SUPPLEMENT FACTS
INGREDIENTS

Per daily dose

(5 sprays x 4 = 2 ml)

%RDA*
Vitamin C
30 mg
38%
Propolis dry extract with Manuka honey
4 mg
**
Echinacea root extract
3,4 mg
**
Zinc
3 mg
30%
Ivy  leaf extract
0,28 mg
**

Probiotic mix:

Bacillus coagulans, Bacillus subtilis, Bacillus licheniformis

3,3 mg (= 0,92 δις cfu)
**
* RDA: Recommended Daily Allowance
Propolis is produced by bees and is used to seal and disinfect the inside of the hive, covering its walls internally preventing the spread of bacteria and fungi in their colony. 
Propolis is a real treasure used for preventive and therapeutic purposes, either as a preparation or as an ingredient in other preparations. It is rich in flavonoids and has strong antimicrobial and anti-inflammatory action, strengthening the immune system while fighting infections.