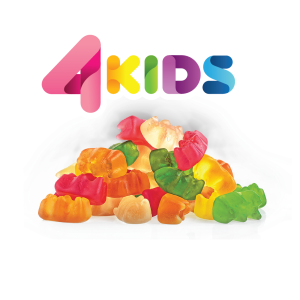 Pharmalead Propolis Manuka Honey 4Kids gummies contain standardized propolis extract, herbal extracts of althaea and ivy as well as vitamin C, vitamin D3 and zinc. Vitamin C, vitamin D3 and zinc contribute to the normal function of the immune system. In addition, vitamin D contributes to the maintenance of normal bones and teeth whereas zinc contributes to normal cognitive function (European Regulation 432/2012). Food supplement with sweeteners.
Ingredients: Μaltitol, purified water, inulin (chicory), isomaltitol, gelatin (from fish), glycerol, L-ascorbic acid, anti-caking agent (corn starch), acidity regulator (citric acid), zinc citrate, preparation of dry propolis extract (7-13%) with manuka honey (17%) and manuka essential oil (2%) [in the presence of excipients: arabic gum, silicon dioxide, sucrose], natural flavor (honey), maltodextrin, ivy leaf extract, althaea root extract, cholecalciferol preparation (in a carrier of arabic gum, maltodextrin, sodium ascorbate and DL-α-tocopherol acetate), sweetener (sucralose), natural color (black carrot concentrate).
SUPPLEMENT FACTS
Active ingredients
Per gummy (4-6 yrs)
Per 2 gummies
7-10 yrs
 11-14 yrs
Propolis dry extract with Manuka honey
10 mg (**)
20 mg (**)
20 mg (**)
Althaea root extract
 2 mg (**)
4 mg (**)
4 mg (**)
Ivy  leaf extract
4 mg (**)
8 mg (**)
8 mg (**)
Vitamin C
40 mg (133% RDA*)
80 mg (178% RDA*)
80 mg (114% RDA*)
Zinc
 4 mg (73% RDA*)
8 mg (108% RDA*)
8 mg (80% RDA*)
Vitamin D3
 5 μg (= 200 IU) (33% RDA*)
10 μg (= 400 IU) (67% RDA*)
10 μg (= 400 IU) (67% RDA*)
Inulin (dietary fibres)
386,5 mg (**)
773 mg (**)
773 mg (**)
*: Recommended Daily Allowance ** No RDA has been set
Gummies with rich composition of 12 vitamins, minerals, trace elements, probiotics, prebiotics and extracts from 25 fruits & vegetables. Contribute to the normal function of the organism, helping children to get the significant amount of vitamins, minerals and trace elements necessary for their nutritional development.
It also contributes to the normal function of bones, cartilages, blood vessels, gums and teeth, while offering to the normal psychological function and to the normal function of the nervous system.