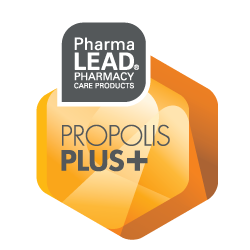 Royal jelly is a creamy substance produced by bees as food for the future queen. It is a source of proteins, amino acids, lipids, vitamins and minerals. Royal jelly is rich in vitamins A, B, C, D, E, which contribute to the normal functioning of metabolic processes, designed to produce energy and to protect cells from oxidative stress*. In parallel, Propolis and Honey are rich sources of nutrients. In addition, Wheat belongs to cereals, a category of food that should be consumed daily and is the main source of energy. It has great nutritional value, it is rich in vitamins A, B, E, fiber, selenium, manganese. Folic acid contributes to the physiological synthesis of amino acids*, while Magnesium contributes to the normal synthesis of proteins and to the maintenance of the normal condition of the bones and teeth*. Finally, Vitamin B6, Vitamin C, Folic acid and Copper contribute to the normal functioning of the immune system*. Suitable from three (3) years old. Alcohol, sugar, colourants, preservatives free. It contains sweeteners. Homeopathy compatible. *The above are official health claims from the European Food Safety Authority (EFSA).
ACTIVE INGREDIENTS PER DAILY DOSE 10ml: Honey 2000mg**, FOS (fructo-oligosaccharides) 250mg**, Royal jelly 50mg**, Wheat bran 50mg**, Vitamin C 40mg (50% ΠΠΑ/RI*), Propolis and Manuka Honey Dry Extract FLAVOXALE 10mg**, Thiamine (as Thiamine hydrochloride) 1,1mg (100% ΠΠΑ/RI*), Riboflavin (Vit.B2) 1,4mg (100% ΠΠΑ/RI*), Niacin (Vitamin B3) 8mg (50% ΠΠΑ/RI*), Pantothenic acid (as Calcium pantothenate) 2mg (33,3% ΠΠΑ/RI*), Pyridoxine hydrochloride (Vit.B6) 1,4mg (100% ΠΠΑ/RI*), Folate (as Folic acid) 0,05mg (50% ΠΠΑ/RI*), Iron (as Ferrous gluconate) 4,2mg (30% ΠΠΑ/RI*), Zinc (as Zinc gluconate) 3mg (30% ΠΠΑ/RI*), Copper (as Copper citrate) 0,2mg (20% ΠΠΑ/RI*)
---
* RI: Reference Intake
**RI: non defined
Excipients: Sorbitol, Water, Xanthan gum, Steviol glycosides, Flavor (Strawberry), Citric acid
| | | |
| --- | --- | --- |
| Nutritional information | Per 100ml | Per 10ml |
| Energy Value | 223,4kcal / 937kJ | 22,3kcal / 93,7kJ |
| Total Fat | 0g | 0g |
| Total Carbohydrates | 76,5g | 7,65g |
| of which: |   |   |
| Sugars | 20g | 2g |
| polyols | 56g | 5,6g |
| starch | 0,5g | 0,05g |
| Dietary fiber | 2,5g | 0,25g |
| Proteins | 0,5g | 0,05g |
| Salt | 0g | 0g |
Propolis is produced by bees and is used to seal and disinfect the inside of the hive, covering its walls internally preventing the spread of bacteria and fungi in their colony. 
Propolis is a real treasure used for preventive and therapeutic purposes, either as a preparation or as an ingredient in other preparations. It is rich in flavonoids and has strong antimicrobial and anti-inflammatory action, strengthening the immune system while fighting infections.