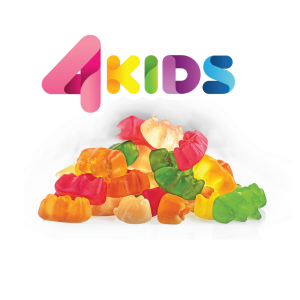 Pharmalead Bactrolife & fiber 4kids gummies contains 5 bacterial strains of Lactobacillus and Bifidobacterium (L. acidophilus, L. rhamnosus, L. plantarum, B. lactis, B. bifidum) as well as inulin, as a source of dietary fibers.
Product of high fiber (1g dietary fibers/gummy (2,5g).
Ingredients: inulin (chicory), maltitol, purified water, gelatin (from fish), glycerol, isomaltitol, mixture of bacterial strains (Lactobacillus acidophillus, Lactobacillus rhamnosus, Lactobacillus plantarum, Bifidobacterium lactis, Bifidobacterium bifidum), anti-caking agent (corn starch), acidity regulator (citric acid), maltodextrin, natural flavor (strawberry), sweetener (sucralose), natural color (black carrot concentrate).
SUPPLEMENT FACTS
Active ingredients

Per gummy

(4-6 yrs)

Per 2 gummies
7-10 yrs
 11-14 yrs

Blend of friendly bacterial strains (10×109 CFU/g):

(Lactobacillus acidophilus,  Lactobacillus  rhamnosus,  Lactobacillus  plantarum, Bifidobacterium lactis,  Bifidobacterium  bifidum)

20 mg (= 0,2 δις CFU)

(*)

40 mg (= 0,4 δις CFU)

(*)

40 mg (= 0,4 δις CFU)

(*)

Inulin (dietary fibres)

1000 mg

2000 mg

2000 mg

* No RDA (Recommended Daily Allowance) has been set
Gummies with rich composition of 12 vitamins, minerals, trace elements, probiotics, prebiotics and extracts from 25 fruits & vegetables. Contribute to the normal function of the organism, helping children to get the significant amount of vitamins, minerals and trace elements necessary for their nutritional development.
It also contributes to the normal function of bones, cartilages, blood vessels, gums and teeth, while offering to the normal psychological function and to the normal function of the nervous system.