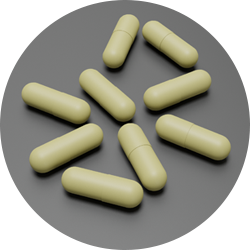 With spinach that is rich in fiber, vitamins A, C, K, B-complex vitamins, as well as iron, calcium, manganese, magnesium and folic acid. It is valuable for immune system strengthening, has a cardioprotective effect and contributes to bone health. In addition, the composition contains pumpkin, an excellent source of energy and well-being and alfalfa which is characterized as a medicinal herb, because it helps the normal functioning of the digestive system, the treatment of arthritis and has a rich antioxidant activity.
| | | |
| --- | --- | --- |
|   | Amount per Serving: 1 caps | % NRV* |
| Vitamin D3 | 50mcg (2000IU) | 1000% |
| Vitamin K (Phylloquinone) | 45mcg | 60% |
| Alfalfa (Medicago sativa L.) fresh freeze-dried powder | 15mg | ** |
| Pumpkin (Cucurbita pepo L.) fresh freeze-dried powder | 15mg | ** |
| Spinach ( Spinacia oleracea L.) fresh freeze-dried powder | 15mg | ** |
* NRV: Nutrient Reference Value
** NRV: Not established
BIBLIOGRAPHY
M.Guadalupe et al., Nutraceutical Potential of New Alfalfa (Medicago sativa) Ingredients for Beverage Preparations, J Med Food. 2017, Oct;20(10):1039-1046. doi: 10.1089/jmf.2017.0046
S.E.A. Badr, et al., Chemical composition and biological activity of ripe pumpkin fruits (Cucurbita pepo L.) cultivated in Egyptian habitats, Nat Prod Res, 2011 Sep;25(16):1524-39, doi: 10.1080/14786410903312991
Roberts JL, et al., Functional properties of spinach (Spinacia oleracea L.) phytochemicals and bioactives. Food Funct. 2016;7(8):3337-53.
"The Black Range Nutrients" offers products that cover the needs of immune system support, good mental health, energy and endurance, beauty as well as specialized products for bone strengthening, good liver function and mental clarity.
| | | | |
| --- | --- | --- | --- |
| | FRESH FREEZE-DRIED HERBS | | WITH MICRONUTRIENTS |
| | SUSTAINED RELEASE PHARMACEUTICAL FORMS | | SYNERGISTIC ACTION |
| | SUITABLE FOR VEGANS | | 0% ADDITIVES |
---